I started knitting in the fall of 2006 when a friend gave me a copy of "Knitting for Dummies" that she did not use. I started knitting to make cloth diaper covers/
longies
, but my horizon has definitely expanded. I started crocheting as a teenager, but did not finish anything major. I did not like how crocheted stitches looked for anything other than a blanket, but did not have the patience/focus for large projects.
My first major project was a pair of
longies
made from the
Aubrey

Doodlepants

pattern
. They were made from Caron Felt-it yarn in the Wildflowers colorway. The yarn is really pretty, but it is single-ply and therefore is will pill like mad. I ended up selling them for the cost of yarn because they were too small for my
son
. I should have done a better gauge swatch. :) Here is a pic: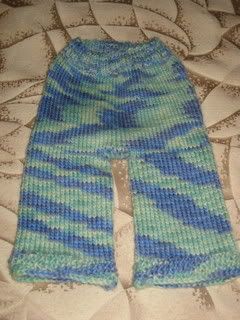 I did a second pair for a friend's new daughter along with a hat. It was in the same yarn in a different colorway. Here is a pic: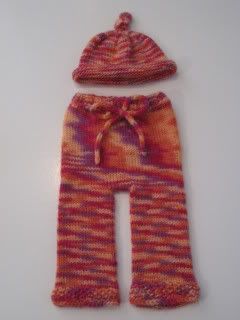 After these, I got a little more
adventurous with my knitting.